My Curry History – from Vesta Beef Curry, Malaysia & Singapore Curry to?
Last night I went back in time and made a quick curry with some chicken pieces and half a Tin of Yeo's Singapore Curry.
Many years ago this was my standby home curry. Quick to prepare and hot and spicy to eat. I was interested to see how it compared since I have moved on to cooking curries the more traditional way,  from ingredients.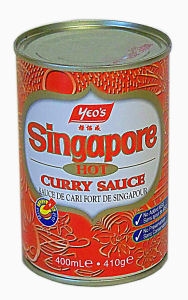 When I was young my family never had curries. Dad had served with the RAF in the Northwest Frontier from 1923 to 1927; the RAF were used in India 'to assist the army in controlling unrest'. I think he had some bad experiences there because he came away with a strong dislike of the natives and anything to do with them.
The first curry I can remember eating was made from a packet of freeze dried meat and powder. It was the famous 'Vesta beef Curry and Rice'.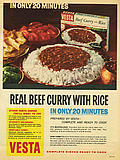 I think I must have been 17 years old and I began to cook one of these famous UK curries nearly every week. A few years back I thought I would try a Vesta Beef Curry again. 30+ years of eating restaurant Indian curries had taught my palate what an Indian Curry should taste like. I was very disappointed and amazed I could ever have enjoyed eating those Vesta curries.
The next curries I can remember having were at my girlfriends home. Her parents cooked what I call a UK Home curry, that is it was made from Clive of India curry powder and contained sliced apples and Sultanas.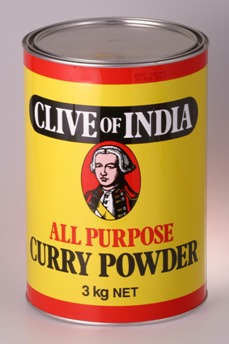 I joined a Car Club and they often met on a Sunday evening and we would all go to a Chinese Restaurant. I discovered the delights of UK Chinese Beef Curry, which was/is totally different to Chinese food in places like Hong Kong and here in Australia.
When I was 19 a new friend, Martin, introduced me to UK Indian Madras Curries and wow I was hooked!! One of the restaurants we went to was called appropriately, The Taj Mahal. The curry arrived at the table in a steaming bowl. It was very oily and the gravy could be seen floating in the red oil, partially separated. I still remember the taste and smell of those curries and I'm getting closer and closer to recreating them, perhaps with a little less oil haha!
My friend Martin always ate Vindaloo. He would sometimes dish a spoonful on my plate. My mouth, which was already on fire from the Madras that I found very hot, would reach new levels of inferno and I would gulp down beer to no effect. Those memories of fun and friendship will never leave me.
Martin went to Australia and sent back letters of how great the place was. I came over to have a look myself, met up with Martin in Perth and he often cooked curries using sauce from Patak or Sharwood jars. They never really seemed much good after the British Indian Restaurant (BIR) Curries.
I moved to Cairns and discovered a tin of curry sauce that was acceptable – Yeo's Malaysian Curry Sauce (mild) in the blue tin. It had a distinctive taste and filled the belly.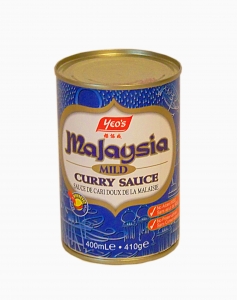 I discovered 'Thugee Bills' a local Indian Restaurant that produced EXACTLY those UK Indian Restaurant curries. One night I walked into the kitchen and congratulated the owner/chef. I asked him how he could cook such fabulous food and not be an Indian. Brian Cassey explained that he had learned how to cook in an Indian Restaurant in an area of London famous for it's Indian Restaurants. His food was spot on.
At home I got a bit bored with the Malaysian Curry sauce in the blue tin and I moved up a level of chilli heat and began using tins of Yeo's Singapore Curry (hot). They have a taste which is partially satay but also Malaysian curry and I always thought they had a good chilli bite to them. Combined with pre-cooked chicken pieces which I keep in the freezer and some rice, they made an edible quick meal.
I tried many other Curry sauces and sachets, but the Singapore sauce was always better. This phase of home curries lasted for several years; especially handy when I arrived home late.
About 10 years ago I discovered the 'Passage to India' simmer sauce sachets and they took me a step further in my search for Indian Curries. I still use them occasionally because they are so quick and simple, have a good taste and a great aroma.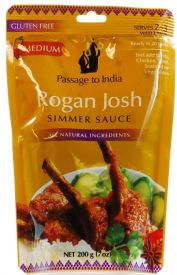 In about 2007, always keen to try various curry pastes & sauces, I discovered in Coles a packet of pre mixed spices. This looked like a good thing but I was very disappointed with the results. Somehow I knew this should be the right way to cook a curry and I persevered through about 10 packets, but either the mix was too old or it was the wrong ingredients and I eventually gave up on them.
Then in February 2010 I began my current journey to recreate a British Indian Restaurant curry at home. I saw a different brand of spice kit at the local Butchers. This one also had dried herbs in it. Although I was disappointed with it, it showed far more potential than the previous kits. I posted about the results here Indian Lamb Curry Kit
I received a comment from another Spice kit supplier, Zana of http://spicez.com apparently the kit I had tried was a copy of her idea, she said,
"Perhaps you might like to try the original version of SpiceZ Sri Lankan Curry Kits. I would be happy to send you a sample to take you on an amazing journey!!! You will discover the secret ingredient in our product ."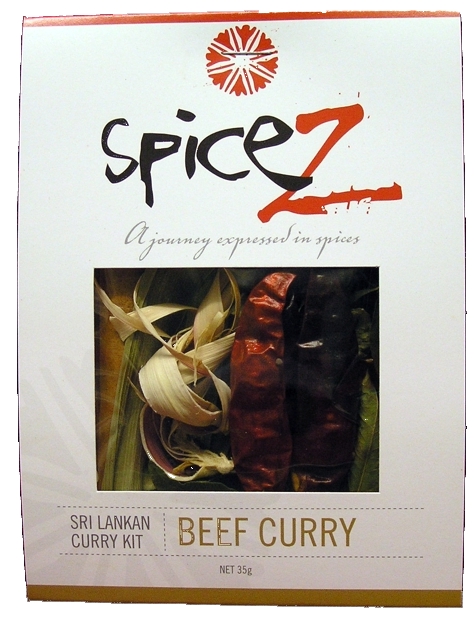 That curry produced the beginning of several "The Best Curry I have Ever cooked" Spicez Curry Kit
My climb up the ladder accelerated. Zana herself became interested in the quest for my 'Curry Nirvana' to recreate those `1970's BIR curries.
She put me onto a company that also produces some great curry kits, the 'Saucy Spice Co' Saucy Spice Co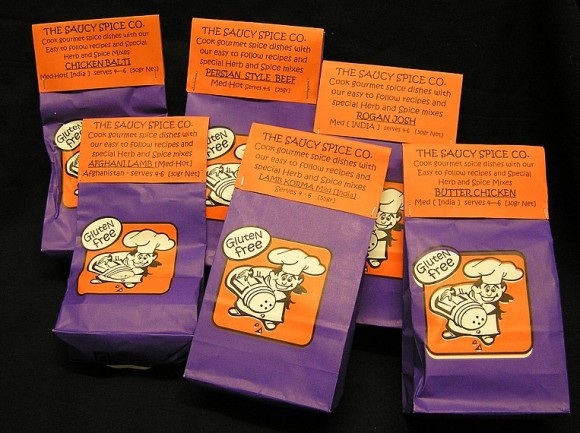 Late 2010 Zana discovered a UK forum whose members all had the same quest as mine – she found one member, Curry Barking Mad Mick, who had a website CBM Mick with a recipe book for sale and many videos taken of chef's cooking in Indian restaurants. GOLD!!!
I joined the forum http://www.secretcurryrecipes.com and received plenty of helpful advice from the members. From that advice and some experiments I learned more about each part of the curry cooking process. The spice mix is very important. To make sure I was re creating everything correctly, one of the forum members, Iain, sent me 600 grams of their recommended spice mix, that he made up for me and posted.
After many experiments and following the BIR procedures, in March 2011 I decided that some of the BIR style of cooking, in particular pre cooking the meat and only cooking one curry portion at a time, didn't suit my habits. I have kept detailed notes of all the curries I have made in the last 2 years and I had some ideas of what worked for me. I looked back through these notes and came to a decision to alter the method.
The results of the first 'Rob Curry' method confirmed I was on the right track in the quest for my personal curry nirvana. I have now cooked by the 'Rob Method' 3 times and I have a system which suits me and produces 'Restaurant Standard' Madras curries.
Robs Curry Method
'Restaurant Standard' covers a vast range. I have had a few shockers in Restaurants over the years!! I've also enjoyed many superb restaurant curries. In fact I have an excellent Lamb Vindaloo every Monday, from local Cairns Indian Restaurant Marinades. Their Indian Food is top class and highly recommended.
The Rob Curry method is still being improved, I don't claim Nirvana has been achieved yet, but I am very close. Now It's mostly down to fine tuning the spice mix.
The result of trying the Yeo's Singapore Curry Sauce last night ?– I am pleased to report that it was exactly how I remembered it. It was tasty and produced a quick edible curry, as it always has. I have increased my chilli tolerance over the years, yet I still thought it had a good chilli bite; and all I needed.
The recipe and videos of my method are at the last link in this post (Robs Curry Method) The recipe and cooking methods PDF will be changed as I fine tune everything.
If you're a curry lover, sign on for email updates and follow my journey.
(your email is secret, I can't see it. Updates are not too frequent)
Share
4 Responses to "My Curry History – from Vesta Beef Curry, Malaysia & Singapore Curry to?"