Indian Lamb Curry from kit of Real Ingredients
My search for Curry Nirvana (http://shed.robhealey.com.au/cooking/curry-nirvana) continues. Yesterday I tried using the ingredients from a Curry Z  kit.
Result- disappointing. The kit was at it's use-by date and not fresh.
After this kit I tried a SpiceZ kit which I now rate as the best I've ever tasted – I wrote about that kit at http://shed.robhealey.com.au/cooking/spicez-lamb-curry/ 
I'll leave this review here- it was an edible curry with great promise, but I was disappointed because it lacked something essential –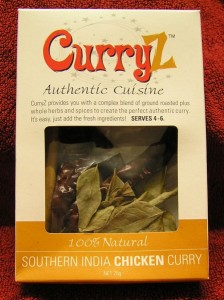 On opening the packet I found two sachets, one of dried leaves, chillies ,berries and a cinnamon stick –
The other packet was a good quantity of ground spice –
The packet was labelled 'Southern Indian Chicken' but I decided tio use Lamb because I already have a very successful Indian Chicken Curry – http://shed.robhealey.com.au/cooking/chicken-vindaloo-amazing
The serving suggestion was for 4 -6 people, using Ikg of Chicken, but as usual with these dried ingredient packets it doesn't matter very much and I decided to use it all on 565 gms of Lamb.
There was not much aroma coming from the slowly cooking meal, I think that it needs a few hours slow cooking to release everything from the dried ingredients.
The result was a lot better than I expected from the lack of aroma. Curries usually improve by being left for a day or too and I have frozen a second helping, which will be very interesting to try.
My Recipe –
Saute one diced onion until clear.
Add 6 pressed large garlic cloves and 1 diced tomato.
Fry gently until tomato disintegrates, then add packet of dried leaves, stir for 1-2 mins and then put aside.
Quickly brown large chunks of lamb, in butter, in a wok that is as hot as you can get it. Don't take too long or meat goes tough.
Add sachet of spices to wok, add more butter or oil oil if too dry. Once mix is saturated (10-15 seconds) turn heat down and  mix meat and spices around , add Onions etc that was put aside.
Add sachet of tomato paste and water to suit. Look at how much sauce you will need to judge how much water.
Put into dish with lid and put in oven at low heat- I try for 60-65C degrees
Wait minimum of 3 hours – 6 to 8 hrs would be better at this temp.
NOTES.
Meat goes tough if too long in Hot Wok, so get that Wok hot and try to brown meat within 1 minute.
Oven at 60-65C. Meat is cooked when it reaches 62-65C, the hotter it gets above that , the more it shrinks. Meat that shrinks is tough.
Garlic:Next time I will use 4 large cloves of Garlic instead of 6. I didn't notice the garlic while eating but the following day I knew I had had a lot of garlic by the taste in my mouth.
UPDATE 6 March 2010
One week later – I tried the frozen serving last night. It had matured. The garlic was a little bit less strong. It was hot enough with 3 chilli's, it was tasty, it was spicy but it didn't have the 'life' that a curry should have. It was 'dead'. It was 'flat'. I can't describe it any better than that.
There was plenty of live ingredients like Tomato, Onions and Garlic but there was a secret ingredient missing – I don't know how to make that 'life' .
Looking back I notice my comment "There was not much aroma coming from the slowly cooking meal" – On the plate it wasn't without a spicy smell but not as strong as usual.  The meal tasted good but perhaps a larger than expected part of enjoying a curry is the aroma coming from the food ?
This one was about 7 out of 10 for sure-  a bit of 'life' would have made it fantastic.
My search for curry Nirvana continues –
Share
2 Responses to "Indian Lamb Curry from kit of Real Ingredients"