Vindaloo Curry as good as a restaurant – how to
I've just cooked the first curry that I can rate at Restaurant Standard.
Have I just had a brief glimpse of my Curry Nirvana or will it be the start of a new era in home cooked curries?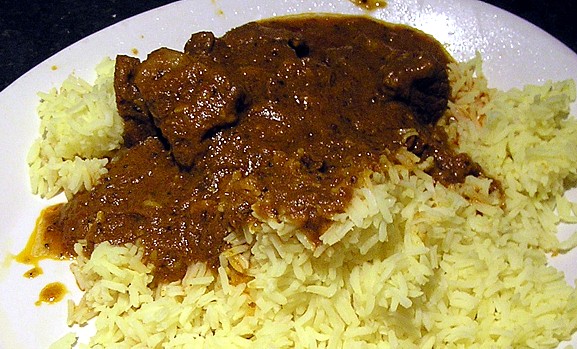 The Audio file was recorded while I ate this brilliant Vindaloo!
Thanks to the information at the UK Curry forum and Micks Cookbook, this Vindaloo was head and shoulders above anything I've cooked before.
I've experimented with the cooking info from the above websites. I bought Micks book- it's only $5 – and it has detailed info on cooking to the standard of BIR (British India Restaurant).
Unfortunately the Indian Chefs in the UK all say that unless you use the same brands of spices they use, the results will not be the same. I have found two sources of fresh spices in Australia which come pre mixed in kits, the Saucy Spice Co and SpiceZ who's kits also contain a second sachet of fresh herbs and seeds.
I have made a couple of Garabi's (Gravies) for the last 2 Curries which were very successful. This time I thought I'd try to make a Bunjara (Onion Paste) from Micks recipe.
I began with a Vindaloo Curry kit from the Saucy Spice Co that Shed Mate Steve sent to me. Some spice is supposed to go in the Onion Paste, but because the kit is pre-mixed for 1kg of meat, I decided not to split it up.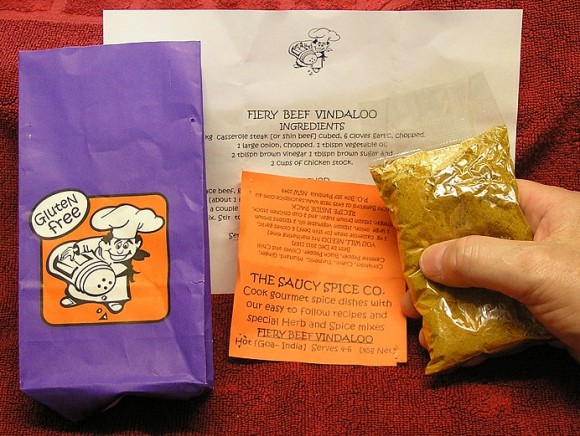 The first step was to marinate 1kg of beef. The instructions with the Vindaloo Kit say to 'Roast the spices in a dry pan for about 60 seconds' and then mix in with the beef, sliced onions, garlic, oil, vinegar and sugar'.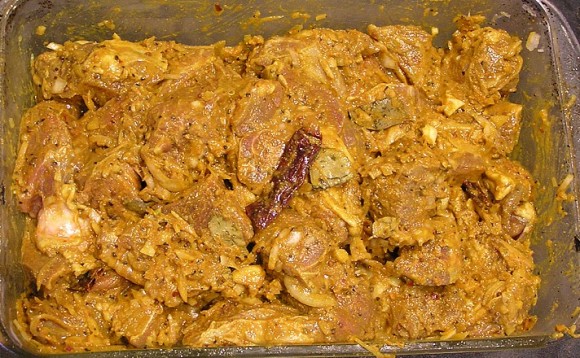 I started making the Bunjara Onion paste,  the idea is to cook sliced onions until they are caramelised but not burnt, various other ingredients are added during the process.
I used 3 tabs of ghee and later added 2 tabs of olive oil. One medium sliced onion (because the marinade had one large one already) I added Eight diced Serrano Chillies and 6 sliced cloves of Garlic. Immediately the ingredients in the pot looked like the beginning of the Garabi, so I changed my mind and made a base gravy, following Micks instructions but omitting the spices which were in the marinade. The chillies made a fiery substitute for half a capsicum. I added one diced carrot and a level t spoon of ginger paste.
At the end of the process I added 3 heaped Tablespoons of 100% tomato paste. At the time it looked too much, but now I think it was a good idea. there were no tomatoes mentioned in the kit's recipe and I reckon all curries should have some tomato in them, for me it's a basic ingredient. There's no harm in changing other peoples recipes as long as you take the blame when they go wrong!
After simmering for about 40 minutes I added a chicken stock cube and water and blended the gravy. It had a rich, red, look. I divided it in two and saved half for the next curry.
The meat marinated for 7 hours. I put it in a hot pot with some ghee and lightly browned it, making sure any spice that hadn't released its pungency got another chance, then added half the Gravy Base, half a chicken stock cube and some water to cover the meat.
This is how it looked after 140 minutes slow simmer –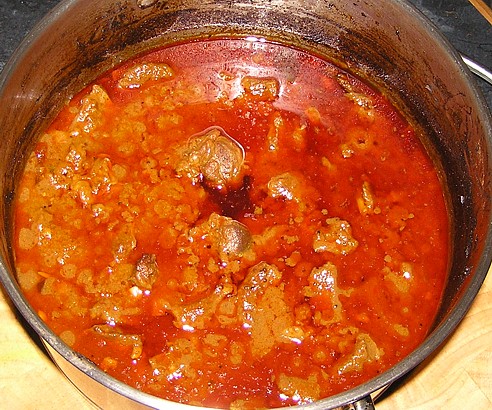 Here it is plated up, but before adding more juice- at this stage I was more interested in eating it than taking pictures!!!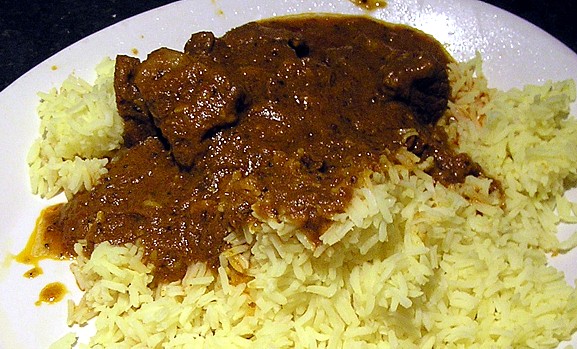 In the brochure the kit is labeled "Fiery' Vindaloo, so obviously it has a generous amount of chilli powder. The extra chillies I added certainly made sure it was Fiery!! It was a full on Vindaloo, the chilli heat almost obscuring the taste of the curry. I had an enjoyable battle with it and I'm already looking forward to having one of the portions I froze.
Curry fans will recognise from the tone of my voice in the audio that my mouth was on fire and how much I was enjoying it!!
I'll update this with the results of the frozen portion which I expect will be slightly less bitey.
UPDATE.
Last night I reheated a frozen portion of this big success story – the Vindaloo.
I was very anxious because I had given it such a big wrap, was I mistaken?
It was every bit as good as on Friday. YAY!!
I added a pinch of the spice mix just before the end of cooking because none of my home cooked curries have the strong aroma that takeaways have. It still was not as aromatic as a restaurant curry, but the taste and oiliness  hehehe were brilliant. The sauce was rich and red, it maintained it's tremendous bite but I could taste the flavour a little more this time.
I attribute the success of this curry to the base gravy I made. It added a new dimension to an already good curry. I have half of that gravy saved and will experiment with a different spice mix.
SUBSCRIBE if you would like to keep track of my progress towards my 'Curry Nirvana'
Share
One Response to "Vindaloo Curry as good as a restaurant – how to"