How to Improve Packet Curry Sauce
Curry Sauces make a great base for a curry when time is short. I prefer the Passage to India Sachet Sauces which are quite good on their own, but with a little help they can be really great.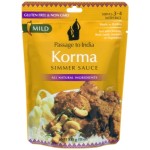 How to Improve Packet Curry Sauce
It was a weekday evening and I wanted some sauce for a two portion stir fry.
I put 300gms diced chicken breast in a wok with some oil and stir fried until just cooked, then added half a packet of Passage to India Chicken Korma curry sauce and simmered for a few minutes. I added two pinches of curry powder, made from the standard ground spices of Cumin, Coriander etc and half a T spoon of Kashmiri chilli powder.
The light, coffee coloured sauce looked a little bland, so I fried up a Tablespoon of Tomato paste with a little oil, constantly stirring. After about 90 seconds added the same amount of water to make a 50/50 mix.
Korma is a yoghurt based curry, but I couldn't find any yoghurt so I added a Tablespoon of Coconut Powder, stirred it in and allowed to cook for 2 minutes before pouring into the pot and stirring into the curry.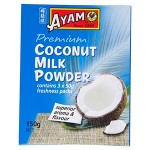 I put the pot in the oven to simmer for 30 mins while I prepared the stir fry ingredients.
After stir frying chopped Capsicum, Snow Peas, Slivers of Carrot and tiny pieces of Broccoli with some oil and 2 large chopped cloves of garlic, I removed them from the Wok and with a little more oil, fried a packet of Noodles that had been soaking in water.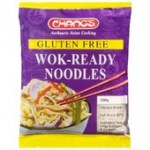 After a minute or two I added half the stir fried vegetables and when all was combined, tipped that into a bowl and ladled half the Chicken Korma on top. I repeated that with another bowl for the 2nd portion, adding another half teaspoon of Kashmiri chilli, because I like a little more chilli heat with mine.
It was a really excellent meal. Adding the extra ingredients transformed the Sachet Curry Sauce, and I will be making this many more times. It was yummy, the sauce dripped down through the vegetables and noodles, transforming this quick snack into a gourmet meal and the only complaint heard was 'not enough sauce'- I count that as a win !
Tomato Paste and Water: Mixed 50/50 is the base for most BIR (British Indian Restaurant) curries.
Oil: Transfers the tastes of the ingredients; I use it in Casseroles for the same reason.
Curry Powder/Garam Masala: A pinch or two adds to the aroma and taste. A pinch or two can be added just before the end of cooking if the meal is lacking in aroma but don't overdo it!
Coconut Powder: I use Ayams Coconut Milk Powder because it tastes like real coconut, 100% better than tinned coconut milk or cream .
Noodles: I use Changs Gluten Free Wok-Ready Noodles. They're like Udon Noodles, not thin like the dried Ramen Noodles. It's best to soak them in water to help untangle, they are a bit stiff and soften when fried.
Sachet Sauces: There's a wide choice available and I've tried many. Often the taste of preservatives is too strong, or some other unknown taste is overpowering. I like the Passage to India Korma, Rogan Josh and Butter Chicken sauces best.
Please share this, click the stars at the top to rate it and also comment if you find this helpful!
Share