Web Design
I'm getting some amazing results with my latest web designs, including this one here, at my Shed.
I began building websites in 1997 and in the last few years have won some awards for commercial sites. Recently I've discovered a system that interacts with the search engines to make my websites more easily found and get high rankings.
Attracting viewers to a website is vital and that's why being listed high up in the search results is so important that business's are paying thousands of dollars just to have their sites search engine optimised.
But –
The system I'm using now, does a lot of this optimisation AUTOMATICALLY!!
 Does it work?
Hell yes!!
My review here on 'The Shed' of Spicez Lamb Curry kit is currently ranking at number two position of PAGE ONE of Google – that's in the world, not just 'pages from Australia'. 
Ok, this is a plug for me, sorry about that, but this discovery is so amazingly good I just have to blab –
The essential feature of my award winning Web Design is a Content Management System which is configured to make a Website 'Search Engine Friendly', increasing its visibility so that it can be found.
I construct these Content Management System (CMS) websites to AUTOMATICALLY notify the major Search Engines after every update. They also add other vitally important search engine information called meta tags to the page .
The benefits are HUGE. Not only do the websites I now build achieve their best page rank quickly, but my clients have full control of their website, saving them time and money by managing it themselves. They can edit and add information, images, videos etc.  Anyone with basic email skills can manage this CMS, or I can manage it for them. 
If I am asked to manage the CMS for a client they still enjoy all the web friendly benefits of the system, plus I can update content far quicker than a static site, which is a cost saving to them..
Whether you're a small business looking to grow, a retailer with an on-line catalog, an artist looking for exposure, or any business or organization seeking to maximize chances for success, this CMS and the way I configure it opens up new ways to communicate with your audience.
My website is http://allaboutweb.com.au/
Below is a screenshot of page one of Google, taken on Sunday 30th May 2010 showing this website's curry review at #3 position.
Interestingly it is above the Spicez.com.au website which was no-where to be found on Google until recently  because it had no meta tags. I optimised each page separately, relating to the content. I have always been interested in search engine optimisation and constantly update on what is working. My expertise has pulled Spicez from obscurity to ranking on page one, something I am very proud of – although it IS below my CMS website post. hehe
It took me an afternoon to optimise the Spicez website while my Shed post took about 10 minutes!! Also, because the Spicez site is static, not CMS, it's possible that it won't hold it's high ranking, because the major Search Engines currently favour sites with constant changes and additions, which with CMS is so easy to do.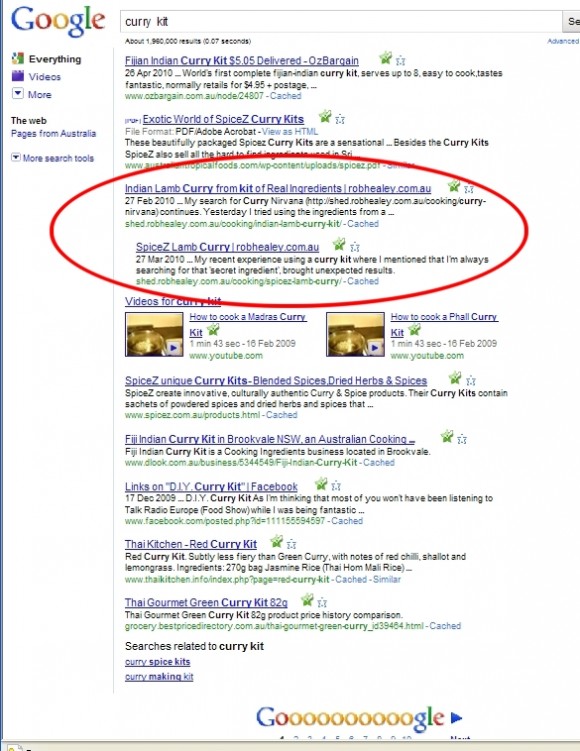 Head over to my website http://allaboutweb.com.au/ for more information on what I do.
Share