Nacho the World travelling Rubber Duck!
For a couple of weeks in late September and early October this year I was host to a world travelling Duck – Nacho.
Made of rubber and wearing a scarf and weird hat, Nacho originated in California and had already traveled to a few people in the USA, visited Niagara Falls, England and New Zealand.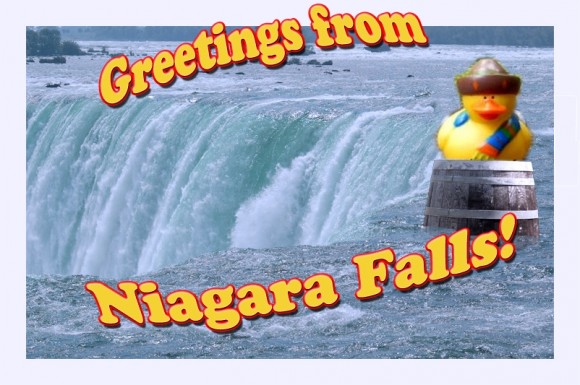 Arriving in Australia he stayed with shed mate Steve who brought him up by plane to stay with me in Cairns. I took one look at those close together eyes and knew he'd be trouble – and he was!!
Looking back on his visit here, I'm amazed at the things he got up to –
First we had a Welcome Party, he drank all my booze and was found asleep on the table the next morning.
I woke him up and we took him sailing (with a hangover)
The next day he saw my Model radio controlled planes and wanted to go for a fly – he's a brave little guy.
He met Rubber Ducky and FLEW!!
I took him to my Pirate party –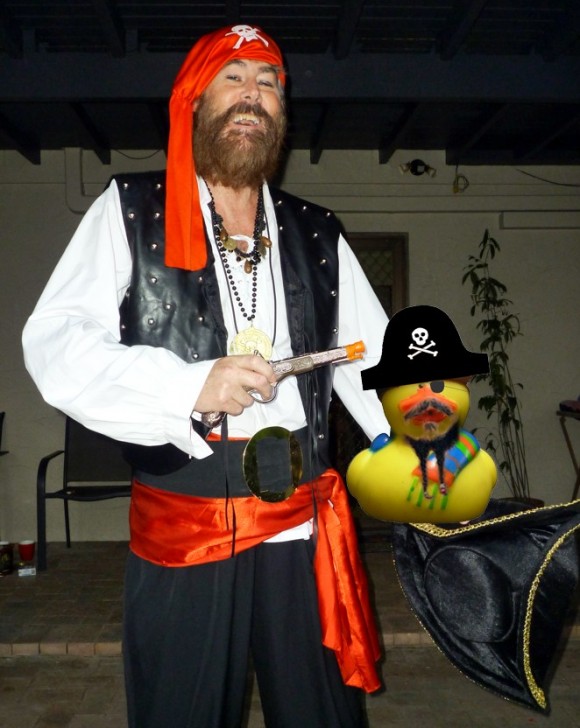 The next day Nacho, Marlow and the tribe had a peaceful family swim
While swimming he noticed the steep slope of the shadecloth roof and created The Slide of Death
Then there was the infamous day when I discovered the pool half drained-
I told him NOT to touch the red button!!
A couple of calmer days followed –we went shopping at Cairns Central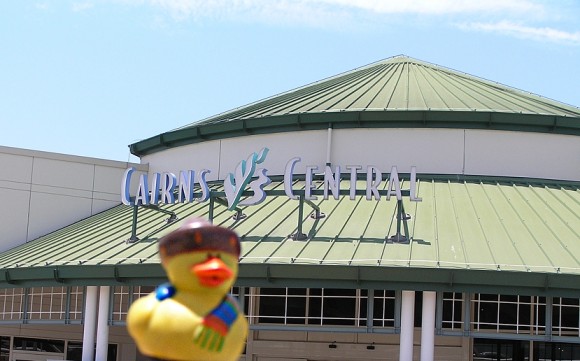 Then we popped over to the Lagoon on the Cairns Esplanade


He wanted to go up on the roof like he did at Steve's – watch out the next hosts, this seems to be a favourite with him- ducks DO like to get high!
Then he saw my Corvette, got a bit homesick, polished it and came for a drive with me.
We drove up to the Northern Beaches, it was a great day for a drive with the roof off and his hat stayed on like it was part of him!!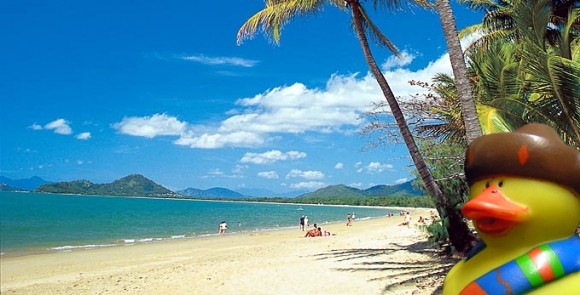 At this point, and I blame myself, Bruce came to visit and Marlow was infatuated by the big Aussie duck and went off with him!!
Nacho was not a happy ducky!! He stole my model Biplane and attacked Bruce, firing the machine guns at him.
After that he grabbed Marlow and stole my Corvette!!
I managed to get some video from the security camera fitted to the Corvette, Nacho was driving recklessly, the music so loud I could hardly hear the tyres squealing!! But it seems that he won Marlow back and there's a happy ending to that part of the story.
Then a week went by – the GPS in the vette showed Nacho & Marlow slowly working down the coast, about 2000kms and into NSW. I wondered how he was getting fuel for the Corvette – some wag from the Facebook group, 'The Adventures of Nacho' suggested he was putting it on his bill haha
Sharon spotted them parked in front of the Wagga Wagga Shopping Centre and she grabbed them – apparently they wouldn't come quietly!!
Sharon parked the Corvette in her carport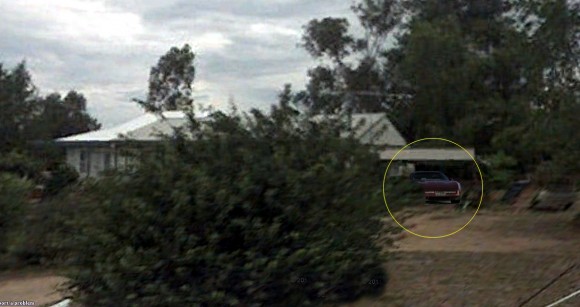 Bruce 'flew' down to drive the Corvette back to me
He arrived with his new girlfriend – Tacky Quacky who flew over from Florida!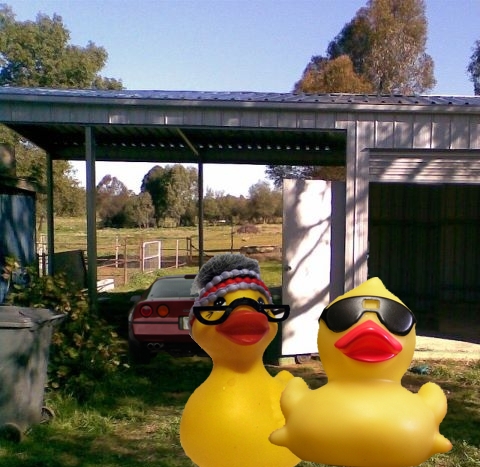 The next day a Corvette mate in NSW spotted my Corvette speeding down the road and took this picture of them –
TQ is obviously smitten with Bruce, the Macho Aussie Duck!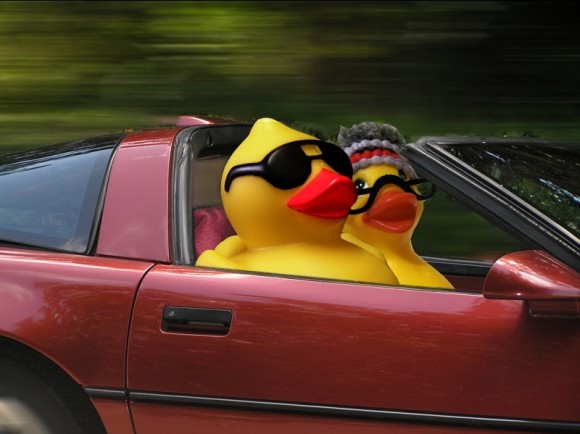 I checked the security camera fitted in the vette, Bruce and Tacky Quacky (TQ) are enjoying each others company as they drive back here!!
BIG SURPRISE
Nacho rang me! It sounded like he was in a jumbo Jet, so I guess his packing crate was somewhere over the Pacific Ocean as we spoke
As he didn't have a vid cam in his box, I picked a few random photo's from the Nacho Album to display while listenening to our conversation –
Share