Saucy Spice Persian Kit
WOW!  This Persian Beef spice kit from the Saucy Spice Co –http://saucyspice.com.au/  was brilliant. Great taste, good chili bite and easy to cook.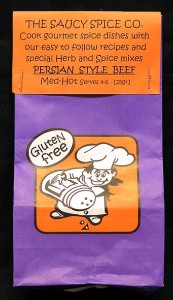 The spices come in the usual bright packaging with instructions on the back for what extra ingredients are needed. That's very handy
This Persian Beef kit required the usual Oil, Onion, Garlic, tin of Tomatoes, Salt, Vinegar and Ikg of Beef and also 1/4 cup of Ground Almonds and 1 cup of dried Apricots or 1/2 cup of dates.
The spices supplied included Cumin, Cloves, Paprika, Chili, Black pepper, Cardamom, Cinnamon, Mustard Seeds and Ginger.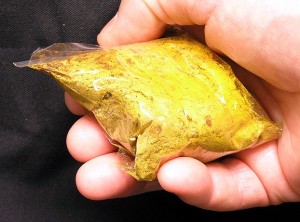 The cooking process was extremely easy – not requiring any browning of the Beef, and the flavour went right through the Beef during the slow simmering period.  The recipe instructions were clear –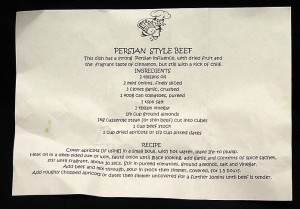 First 2 medium Onions finely sliced were sauteed until clear. Towards the end of that process 3 cloves of crushed garlic were added, then the spice mix was mixed in for 30 seconds until the aroma was released. Then one can of pureed Tomatoes plus the ground Almonds and Vinegar were added.  After about a minute of stirring, the Beef was added and all was thoroughly mixed together.
After a few minutes I added some stock and then simmered slowly with the lid on the cooking pot. 30 minutes before serving I added the pitted dates.
RESULT: An absolutely full flavoured, gorgeous meal. I was totally impressed. Most curries improve with age, but this one was great, right out of the box onto the plate. I have frozen two portions for next week – I can't wait!!!!
NOTE: I am not a fan of fruit in a curry, it reminds me of  homemade 'curries'  I had when I was a kid, made from Clive of India powder, with diced apples and Sultana's- Yuk.
I'm sure the dates served a purpose in adding to the flavour and authenticity of this curry. I ate one date and then left the rest on the side of the plate -it was the sort of thing  Jeremy Clarkson would do haha!
Another step up the ladder in my search for curry Nirvana-  http://shed.robhealey.com.au/cooking/curry-nirvana/
Share
5 Responses to "Saucy Spice Persian Kit"