Saucy Spice Co Madras
The Saucy Spice Co  http://www.saucyspice.com.au  make a Madras Kit –
 "Rich and aromatic, this is a hotter classic Indian beef curry."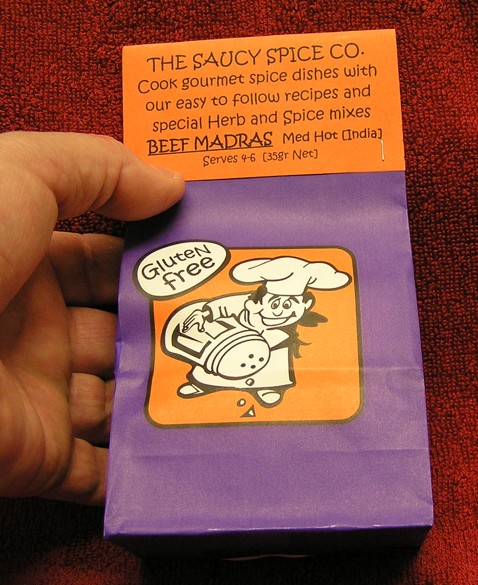 I followed the instructions, but used 1kg of lamb instead of beef.
Marinated overnight with 1 big onion, 6 squeezed cloves, lemon juice, tin of diced tomatoes, the supplied ground spice (30gms) and 2 tabs Vinegar.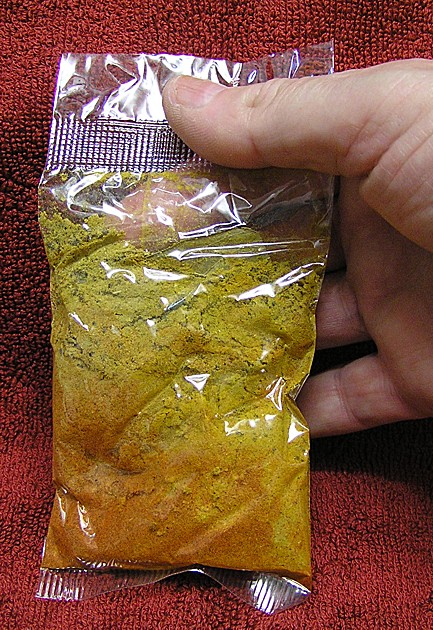 The next day I fried 1 small onion and 3 finger chillies for 20 mins in ghee, then fried the marinade in 3 parts and then fried the meat v briefly, a few bits a time. I don't think I'll fry the marinade next time, it was unnecessary but I do like to make sure the onions have had some heat and that the tomato renders down.
Then I put it all in casserole dish with half a tin of coconut cream, which was too much, I will use 1/3rd tin next time, put in a 110C oven (middle) and cooked slowly for 3 hours. I noticed that the aroma was not very strong while it was cooking.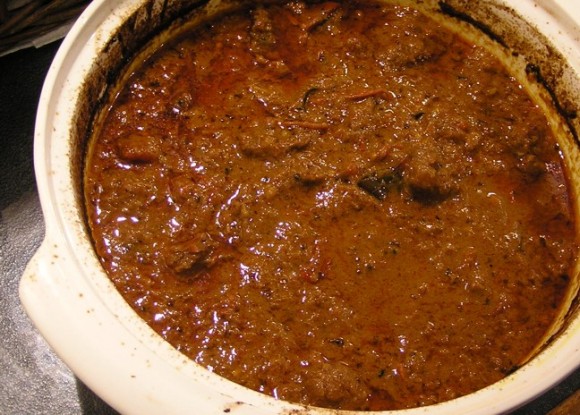 Curries are never at their best when new. This one was Ok, not as aromatic as some.
I froze some portions and re heated them when my old sailing mate Bob Reid came to stay. He is a great cook and curry fan.
The sauce was very oily and it really looked good. It had matured heaps.
Reidy was ecstatic about the curry – I wrote down what he was saying –
"This is Everything
Colour, Texture, it's got it all
This Lamb Curry is brilliant
Just looking at this makes me hungry, (he said as he went for 3rds)
This is just beautiful
intense sauce
intense flavour"
woohoo that was an excellent response.
I did 'cheat' by adding some SpiceZ Garam Masala 10 minutes before the end. This gave it the aromatic spiciness it was missing the first time around.
I thought it was quite a good curry, the lamb was so soft it was falling apart, and I would prefer it not to do that, but otherwise it was a good curry.
There was still this mystical 'secret ingredient' missing, but I at least made a curry that was very edible.
I didn't tell him it was a Madras and afterwards he declared it was very similar to a Beef Rendang – I had add too much coconut milk to it, so that was rather clever of him. I'm not sure if coconut milk should be an ingredient of Madras.
Share