Pappadum Microwave
UPDATE:2015 I used to cook Pappadums in the microwave, but I've returned to cooking them in oil, they taste so much better.
Here is the old way – I cook my Pappadums in the Microwave . I used to cook them in oil as per the instructions but it uses a lot of oil, which can't be healthy and there is the added danger of a kitchen fire, especially if you are cooking with an open gas flame.
Cooking Pappadums in the Microwave  is an acceptable alternative providing they are sprayed with olive oil on one side and left for 10+ minutes. Then put a plate in the microwave (1100watts) and put it on full for 90 seconds to pre-heat it. Place three or four oiled Pappadums on the plate and Microwave for one minute.
This pre heated plate is an important part of the process.
Adjust the time to suit the strength of your Microwave. You can do 4 or 5 pappadums at a time this way and they are tasty.
Without the oil they are too dry and powdery.
You can do more than 5 at one time, but they may burn a little in a few places. I have cooked 15 by scattering them around the plate-  and making sure they are not all exactly on top  of each other. Very handy when making curry for several people.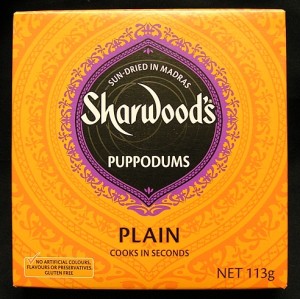 I prefer plain pappadums, there is enough strong taste in the curry so I don't need extra garlic or whatever. I use Sharwoods 'Puppodums', there are 15 in a packet. about 15 cm/6 inches wide as opposed to the other packet of large papadums on the supermarket shelf  which contain only 10.  I notice on the Sharwoods website that they now only show packets containing 8, which is disappointing because I expect the price will be much the same for only half the amount.
Since writing the above I have changed my mind. The Sharwoods Puppodums did disappear off the shelves for a while, and I tried the Patak's Pappadums. The Patak's are only 10 to a packet compared to Sharwoods 15, but the net weight is only 13gms less, at 100g net. I thought the Patak's tasted better, and the Sharwoods, when they reappeared on the shelves, seemed very bland in comparison. I cook the Patak's Pappadums THREE at a time.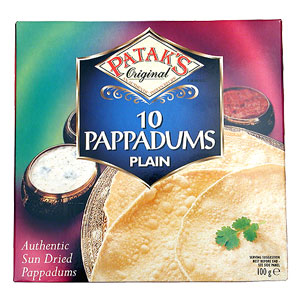 I have used the small Pappadums from the supermarket but the large ones are easier to oil & cook and a more authentic size. I have tried several other unknown brands from Asian shops, they sometimes have more flavour but sometimes not so good. Hard to find consistency and often they are not gluten free.
Once a packet is opened I wrap it in gladwrap, or seal in a ziplock bag- either way they keep for weeks, even in the tropics. But not so with cooked pappadums- for 8 months of the year when our humidity is high, a cooked pappadum begins to turn soggy in just a few minutes. In high summer they start to go soft after 3-4 minutes!! so best kept in a warm oven until ready to eat.
Share
8 Responses to "Pappadum Microwave"