Stereo Mix missing in Windows 7 – SOLVED!
I upgraded to windows 7 Premium and Stereo Mix was completely missing.If you have problems trying to record audio from your PC,
HERE'S THE SOLUTION
Stereo Mix is used to transfer audio that the PC is playing to recording software such as Audacity, so that you can record what you're hearing.
I spent several days Googling for an answer. Because I had upgraded windows but had the same motherboard and sound card, it was less confusing than a completely new system and eventually I decided, from the answers on the net, to download the latest soundcard driver, because the only thing that had changed was the operating system.
The advice was not to go to windows for it, but to go to the motherboard manufacturer, because it would be specialised for the system rather than a generic driver, which might not be as good, or even cause problems.
I found my receipt for the last computer rebuild and the motherboard is an Asus p8p67. An alternative is to open the side panel of the PC and read the name and model on the actual motherboard, or get free software which will tell you what the MoBo is.
I went to Asus, filled in the model number, located the correct audio driver, downloaded and installed it.
VOILA!!  Stereo Mix appeared in the 'Recording' tab of the sound panel
I had already right clicked in an open area and ticked both 'show disabled' and 'show disconnected' devices a few days ago, so it showed up straight away
I right clicked stereo mix and enabled it and YES!! I could record. I tested it in my normal music software and also in Sound Forge
There is a main audio level setting and then a level setting for different programs , rather neat and better than XP
The master level control (I think it is) is the 'Levels' tab in 'Stereo Mix Properties' which you get to by double clicking 'Stereo Mix'
The other level controls you get to easily by clicking the speaker icon bottom right of the screen and clicking 'mixer' which is right down the bottom
Looks likethere are thousands of people like me, looking for an answer to the missing Stereo Mix. There may be other solutions,  this worked for me, I Hope this works for you to!
Here's a screenshot on setting up the Stereo Mix so you can record your PC's audio output. I've numbered the actions from 1 to 7, in case it makes it plainer
Click the picture to enlarge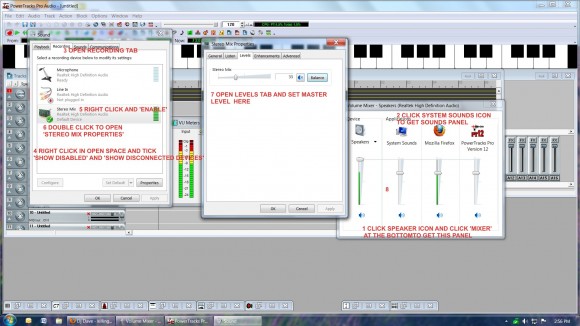 Share
7 Responses to "Stereo Mix missing in Windows 7 – SOLVED!"