Towards Curry Nirvana Pt 3
Curry Nirvana – my quest to cook an Indian Curry to the standard of a good Indian restaurant.
I had a mammoth Curry cooking session on Friday ( 17 December 2010), with mixed results.
A UK member of the Curry Forum very kindly sent me some of his spice mix and because it is so precious I thought I would have a rehearsal using a spice mix made locally from Mick's Mix #1.
To make a BIR (British Indian Restaurant) curry you have to have 3 things pre made.
The onion Paste
The Gravy
The pre cooked meat
The chefs always make ONE PORTION at a time, ie in one wok. They can have several different curries all being made in individual woks, all going at the same time and they turn from one to another, shaking, stirring and adding ingredients. It seems that it is important that the ingredients must be added at certain intervals.
If it is Tikka Masala they add the spices associated with that dish, if it is Madras they use those spices, that's how the different flavours are made, all with the same pre cooked paste, gravy and meat.
The actual curry cooking takes 15 minutes.
The Onion paste and Gravy are made in large quantities and frozen in portions- they say that halving or quartering the recipe changes the flavour. This is a problem for me because we just don't have enough space to store a lot of frozen food. I am being as ruthless as I can in our two freezers already.
Friday's plan: Make Pete's Onion Paste, Shah's Garabi (gravy), pre cook some chuck steak and follow the BIR instructions.
I have been cooking curries for many years but am now changing my methods to the BIR style, for which I have previously made Garabi but not pre cooked the meat or made an onion paste.
I began at 2:30pm with Pete's Onion Paste. The 2 litres of oil and ingredients filled the pot and simmered away nicely.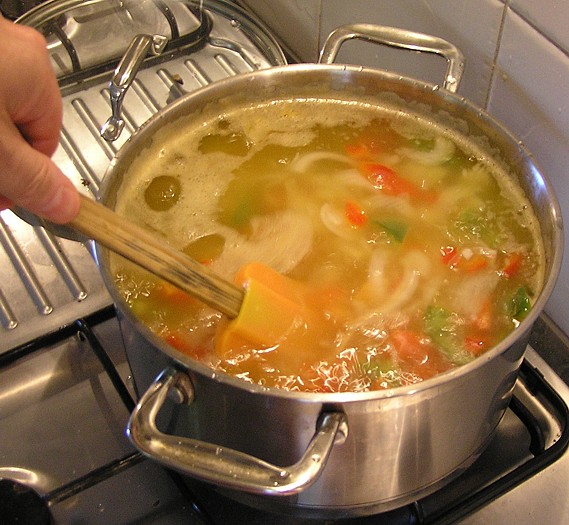 I simmered for much longer than the 40 mins suggested because the onions and Peppers looked firm. I used a potato masher after about 80 mins and the garlic crushed Ok but the onions and peppers stayed mostly intact.
I continued on with the recipe, adding 6 tabs of the spice mix, waiting 20 seconds then stirring in. 15 minutes later switched off and left to cool, it was a lovely red colour. I tasted it later and I don't think I got it right – Pete says "this should now smell incredible and have a real deep sweet BIR taste," The taste and smell were OK but not exceptional – later advice from Pete says he cooks for twice as long as his recipe states.
It was a very hot day here in Cairns, I had the kitchen ceiling fan full on but sweat was running down my face and body in streams. I didn't want to put the aircon on because of the curry smells, so I suffered and in between stirrings I jumped in the pool and listened to the Test Match on the radio. The recipes have sweat drops all over!!
Time was running out and I decided to make Mick's Garabi instead of Shah's because I have made Mick's before and it takes less time. When I do the Shah Garabi I want to do the Tarka also.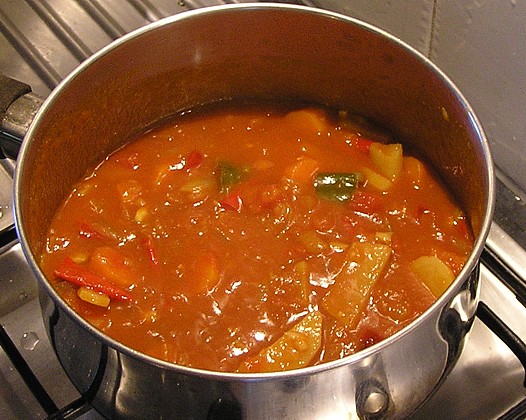 I had a single piece of chuck steak which I cut into large chunks.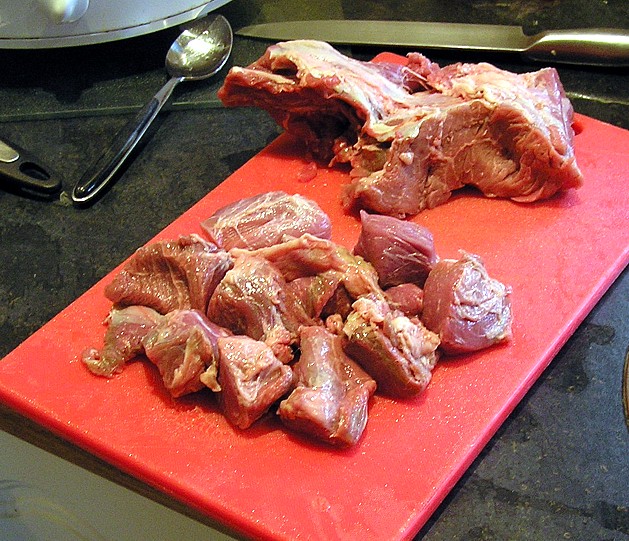 I put the chunks into the slow cooker with 1tab Tomato paste, ½ T salt, 1 Tab Mix powder and 1 T Fenugreek leaves, all just covered with water.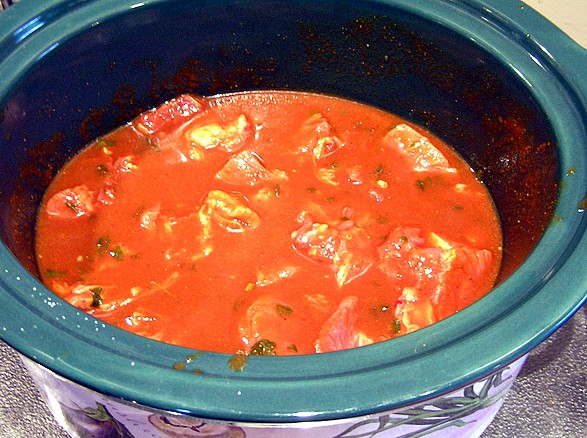 I don't think I will do it this way again because although the meat was perfectly soft without being flaky, I didn't like the smell of it during & after it was cooked! Next time I will add an onion and garlic and possibly when the meat is cooked, remove the onions and garlic and add them to the Garabi .
That smell went away once the meat was introduced to the finishing process in the pan.
At 7:15pm I strained the onion 'paste' – it wasn't a paste at all, but bits of onion and peppers.
Pete says there will be about 1.5 litres of oil left over – I got nearly the complete 2 litres back!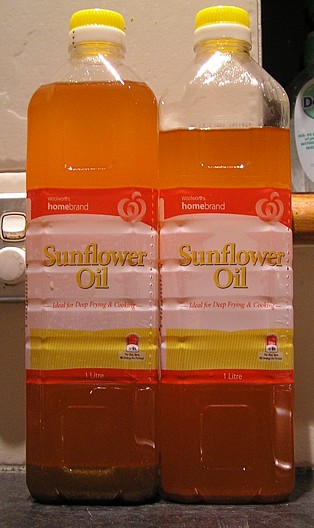 Note the sediment in the Left hand bottle, apparently some of this can be added to the curry and is full of flavour.
By the time I had everything ready it was 7:45pm. I heated some of the Onion oil in the pan then followed a Madras Recipe.
I added ginger and garlic paste to the oil, followed by tomato paste and salt. At this point constant stirring should see the tomato paste colour going into the oil and both times I have done this, I don't seem to get it right. The tomato paste doesn't want to mix with the oil at all, but I gave it a good go. I discovered later I had forgotten that the tomato paste should be mixed 50/50 with water.
I opened a packet of chilli powder and added 1 heaped T, closely followed by some Hing (asafoetida) that has lost its power (1T), then I added 1 tab of mix and some Methi leaves, a few stirs then a squirt of lemon and 3 Tabs of onion 'paste'. More stirring then half the Garabi. I raised the temperature here to a boiling/bubbling (not enough water) then added one serve of not very nice smelling pre cooked chuck steak. I stirred it round for a minute or two and then added some more water. I let that all blend for a minute or 3 then added the rest of the Garabi and cooked a bit more. Total time for the meat was maybe 5-6 minutes.
This was the hardest part of the cooking. I need to learn the quantities by heart as there is v little time to spare in the process. Next time I shall write it out in big print and have everything ready in little pots etc. I also need to watch some chef cooking videos again.
I put that serve aside in a dish and because of the smell of the chuck steak, which I knew was fresh but didn't fancy freezing smelling like that, I decided to make all the other serves. I ended up with 5 servings from 1.1kg of chuck steak.
Pete says he makes about 10 serves from his Onion paste. I must have misunderstood the amount per portion which I though was 3 Tablespoons. I had already used 3 heaped Tabs per portion and there was still more than half the paste left over, so I added another heaped Tab to each serve. I froze the rest of the onion paste for next time. Pete updated me- use 3 heaped Chef's spoons of onion Paste (thats quite a lot!!)
Here's a photo of a Chef's Spoon in a Tikka Masala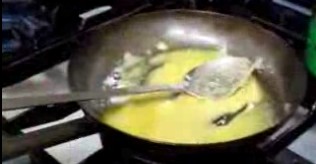 By the time I had cleaned up all the pots, the cook top, the wall behind the cook top etc etc etc it was about 8:45pm. I was knackered!! I sat down with some Pappadums cooked in the Microwave Link to Pappadums cooked in the Microwave post and had my advent beer for the day, Link to My Advent Beer calendar post ,  keeping my serve warm in the oven.
I ate about 9:30pm. I thought it was a good curry, but not great. I was too stuffed to think!!
The forum guys told me, "don't beat yourself up, you set yourself a big task, and after all that cooking your senses were all saturated "
and
"it's no wonder you didn't give yourself 10 out of 10 if you sat down and ate it at the end of such a cooking marathon. Your olfactory centres were by then sending frantic messages to your frontal cortex saying 'PIZZA!!!' I bet it all would have tasted much much better the next day."
"
Obviously I must make the Pete's Onion Paste, Shah's Garabi with Tarka and pre cook the meat
to spread the load.
Conclusion:
I don't think I got the onion paste right.
Micks Garabi was good; I substitute 8 Serrano chilies for the half pepper. They taste exactly like a pepper plus they have good chilli heat. A friend of mine ate one raw, I have bitten the thin end and think I could eat one but I respect my stomach too much and prefer my chilies cooked in a curry.
I haven't used chilli powder for many years, preferring real chillies and occasionally adding chilli paste if more heat required. It seems you have to get used to every paste and powder, the strengths are different. My guess of a heaped T spoon was good. I could add maybe 1/2 a T more.
UPDATE MONDAY 20 DEC 2010
I had the first frozen portion – WOW my senses must have been whacked when I made the curry, because this is a really good curry and I'm claiming it as 'best ever that I've cooked'
It was a perfect red colour, was not too oily, the meat a perfect texture. The taste was excellent, different and better to all the curries I have cooked before, thanks to the Onion Paste and the ingredients in Micks Spice Mix
The only disappointment was the lack of aroma. The smell while it was re heating in the oven was different but not very strong, I could only smell it from a few inches away from the closed door.
I didn't get the onion paste right, probably it was at 50% of potential and I have some pointers from Pete to do better next time.
I didn't get the fusing of the spices right either and I suppose that accounts for the lack of aromatics. I must re-visit the way the chefs cook and get that right next time.
The original serve was made as close as possible to the BIR style.
This frozen portion was made together with 3 other portions, all at once, after making the original serve, because I wasn't prepared to freeze the pre cooked meat due to it's skanky smell.
I was correct in thinking I needed a trial run before using Iain's valuable spice mix.
It does seem like a lot of effort to produce a curry, although once everything is pre cooked it is quite a simple job to make the curry and the onion paste makes about 10 serves.
Eventually, if this BIR cooking method succeeds and I reach my Curry Nirvana, I will then try to find a way to reduce the amount of work.  First though I have to get there and I'm prepared to work hard at it.
I am close to achieving my Curry Nirvana, just need to make a much stronger aroma – this is exciting
If you are a curry lover like me, sign up for email or RSS updates and watch my journey.
Share